[Download whitepaper: Avoiding the Marketing Pitfalls When Replatforming Your Website.]
Congratulations!
You're ready to replatform your site.
This could be the decision that skyrockets your sales.
Or sinks your ship.
So how can you ensure this giant investment of time and money lives up to your expectations?
Below are five critical tips to follow before replatforming your site. Follow them and you'll be in a much better position when it comes time to launch.
Replatforming Tip #1: Make Your Site Mobile-Friendly. (We mean, REALLY mobile-friendly.)
Consider this.
Over half of all searches are now conducted on a smartphone or tablet. For example, BrightEdge reported that 57% of traffic among its clients is coming from smartphones and tablets. That's an increase from 2015 when Google announced that mobile searches have officially exceeded desktop queries.
Yet, according to Smart Insights, the average conversion rate in 2016 for smartphones was a measly 1.0% compared to a whopping 4.0% for desktop.
What's the explanation?
Most online stores are not mobile friendly.
Yes. Your site may be responsive. But that doesn't mean its mobile friendly.
What's the difference?
Responsive means the layout of your website adjusts to the size of the screen of the device (smartphone, tablet, or other mobile device). Mobile friendly means your site has been designed with elements that create an easy mobile shopping experience.
Here are some examples of mobile-friendly design:
Accordion-Style Menus
Macy's does a wonderful job. Notice how all the choices under SHOP BY DEPARTMENT display nicely when clicked.
Numeric Keypad: Show a numeric keypad when entering phone number, credit card number, address, zip, etc. These buttons are 471% larger than a standard keyboard and can reduce error and cart abandonment.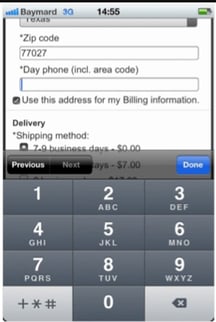 End-to-End Buttons: Thumbs are not as precise as a mouse.
Target does a great job of this: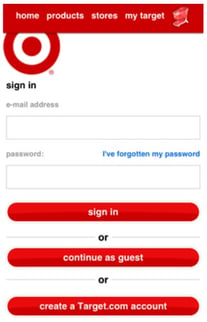 Still not convinced?
Chew on these stats:
Magento reports that 40% of shoppers will abandon a shopping cart if it isn't optimized for mobile.
53%1 of mobile users will abandon your site if it doesn't load within 3 seconds.
According to the Baymard Institute, the average global cart abandonment rate in 2016 for mobile devices exceeded 70%.
Don't think of your mobile site as just a smaller version of your desktop version. You must force yourself (or your web developer) to design a delightful mobile experience for the mobile user.
Taking your desktop version and shrink-wrapping it to fit a smaller screen may save you time in the short term, but in the long run, you're selling yourself, and your customers short. A mobile friendly site is easier to use, converts more, and sells more. End of story.
If you think you're being delivered an inferior mobile site, you probably are. Demand more. It's that important.
Replatforming Tip #2: Take Your Time
Replatforming your website is going to take time. There's just no way around it. When you factor in planning, migrating your data, QA testing and launch, you're looking at 4-7 months. Minimum. Sometimes longer.
And that's ok.
This is the one project where you do not want to cut corners and rush to get it done. The future of your business depends on it. And if you find an agency promising to complete the replatforming in 6-8 weeks, Run. Run far away.
Don't Buckle Under Pressure.
We've been called in to rescue many websites that were launched too early.
The story goes something like this…
The busy season was approaching. The site wasn't ready yet. Bugs and functionality issues still needed to be fixed. Pressure was mounting from management. And so…they launched. And the downward spiral began.
Their small problems in development now turned into giant monsters on a live site. Phone calls from frustrated customers start pouring in. Sales tank. The dev team that pushed them to launch? Not so helpful.
Recovery is now much harder. That's when they call us. To clean up the mess. And clean up the mess we do. Happily. And we'll do the same for you. But we rather you take the extra months to launch a solid site.
According to Brian Walker, VP & Principal Analyst, eBusiness & Channel Strategy at Forrester Research, the average replatform takes four months longer than expected. So build some extra time into your plan and do it right.
Replatforming Tip #3: Launch Early in the Week
You've checked and double-checked your site. You've even triple-checked it. The test site looks good and functions perfectly. What could go wrong?
Tons.
Regardless of how perfectly your site functioned in the testing phase, something will go wrong at launch.
Nothing proofs your site better than live traffic. They will find glitches. Oh yes, they will. And you want them to.
To minimize downtime, launch on a Monday or Tuesday. Then have your web development team or agency on standby for the next 36 hours.
Launching early in the week will also give you time to work out the bugs and kinks by the weekend.
Replatforming Tip #4: Launch During Your Slow Season
Launching your new site in September or October could be the holiday kiss of death.
It's best to plan your replatform to go live in Q1 or Q2 to make sure you have all of the glitches worked out before the big holiday shopping season. If your peak season is at other times during the year, count back from there at least six months to start your replatforming.
Replatforming Tip #5: Crawl Your Site Before Launch
As soon as your site is ready for launch, crawl your site to check for any oddities or hiccups.
You need to migrate with SEO in mind and have a full sitemap, broken link doc and redirect rules in place before launch.
Here are three resources that will serve you well:
GTmetrix – Analyzes your site speed and provides actionable recommendations on how to optimize it.
Screaming Frog – Crawls your websites' links, images, CSS, script and apps like a search engine to evaluate onsite SEO.
Shoppimon – This is a paid service that uses an AI mystery shopper to finds site issues that stop sales before they impact a single shopper's experience.
For a more in-depth look at replatforming, download the whitepaper we co-wrote with our SEO partner, ROIRevolution: Avoiding the Marketing Pitfalls When Replatforming Your Website.